Season One
Beginnings at full potential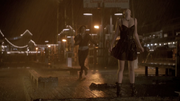 After the arrival of
Cassie Blake
in
Chance Harbor
, Faye immediately began to practice her power for dark and wicked events. At the
Boathouse
, where Cassie was waiting for
Diana
, Faye, along her best friend
Melissa
, introduced herself to Cassie officially. She quickly noticed the kind of spark between Cassie and
Adam
, and after Cassie's departure, Faye decided to test Cassie's
magic
and knowledge over it, whereas
Melissa
seemed to be convinced that the new girl in town didn't know anything. Imprisoning
Cassie
inside of her car, Faye lost control and unwittingly conjured up a
fire
that
Adam
extinguished, saving Cassie in the process. Later that night, Faye was visited by
Diana Meade
, who tried to convince her not to practice
magic
this way. Despite Diana's threat, Faye would not change her behaviour. The following day, Faye and the other members of the
Circle
met up with a confused and unprepared
Cassie
, to whom they revealed themselves as
witches
. Later, Faye
conjured a powerful storm
, and Diana was struck by lighting trying to stop it. Unable to stop what she had begun,
Cassie
is the only one who managed to break Faye's spell. Despite this, Cassie reasserted her desire not to be part of the
Circle
.
[1]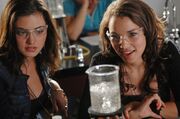 The next day, Faye tried to convince the Circle into voting against Diana's plan to bind the Circle. Infatuated with her newfound abilities, which she demonstrated in a chemistry class, Faye refused to link herself to the other members of the coven. Later, Faye, along with Melissa and Nick, attended the Sea Fair where she intoxicated herself with a mysterious potion given to her by Nick. Dazzled by its effects, which seems to increase a witch's abilities, Faye impulsively pushed Sally Matthews from the dock, severely injuring her. Fortunately, Dawn, Faye's mother, managed to save Sally by using a magic crystal. After realizing the dangerous effects of her magic, Faye, along with the other members, finally agreed to bind the Circle.[2]
The Circle's breakdown
When their Circle is bound, Faye seemed really wrathful to discover her individual powers were gone. She learnt from Diana that another member of the Circle must be present for any magic to work. Willing to practice more and more to understand what are the limits of her power, and as a group, she wanted to practice till the evening, but Melissa refused because she desired to attend the
School Dance
. Later in the night, Faye was attacked by
Zachary Larson
while still trying to perfrom magic on her own. The man seemed to be aware of everything about the witches and the lack of power of a sole member of the Circle, and Faye had no choice but to run away. She fastly joined the others to warn them and in the end, Zachary Larson was knocked out and everyone safe.
[3]
Faye reluctantly agreed to assist Cassie in her attempt to aid Heather Barnes in order to have a look at the Blake Book of Shadows. Unwittingly, she and Cassie released the demon Abaddon. Later in the night, she was attacked by the Demon, who had taken over Heather's body once again. However, unknowingly to the whole Circle, following the surprising death of Heather which they thought would end the Demon's life, Faye's best friend, Melissa, became the new host of Abaddon.[4]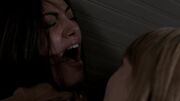 After countless attempts of trying to kill Adaddon, Nick Armstrong ultimately became possessed by the Demon and his body was found dead, supposedly from drowning. When Faye got aware of that, she had no choice but to tell her best friend and to comfort her.
[5]
Following Nick's death, Faye's ex-boyfriend, and also Nick's brother,
Jake Armstrong
returned to town, placing Faye on the edge of both madness and excitation. But, it seemed like her old date hadn't changed much, as he repelled Faye's charming eyes and still being the jerk he used to be.
[6]
The Witch Hunter's threat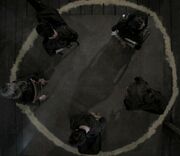 Halloween night has arrived and Faye thought it was time to throw a little party. She asked Cassie to have the party at her own house, which she accepted. At the antiques store of Calvin Wilson, the two girls were looking for decorations and old artifacts. Faye saw an old collar and tried it, as a top, and asked Cassie about that "disguise" of sexy witch-doctor. After Faye pointed out that Cassie was the one to blame for Adam and Diana's break-up, she told her that the best way to make them forget about it was for Cassie to find a boyfriend on her own, as a cover-up. She suggested Luke and quiclky invited him to the party. Later, Faye and Melissa came to help with the decorating of the house, along with Cassie and Diana. Thanks to her research, Faye was able to give life to the decorations of Cassie's house, rendering it almost spooky. Cassie asked her to keep Jake occupied. She tried to seduce him but left because she knew something was wrong with him. She was later kidnapped and tied to a chair like the four other members of the original coven, ready to be killed by the witch-hunters, with among them Luke, and unable to perform any magic due to a circle of iron sulfate. Thanks to Cassie's dark magic, the Circle has yet been able to escape Death from the hands of Luke, and it is him who died in their place.[7]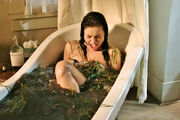 Cassie later told the group she did magic on her own, which Faye didn't accept. Then, she accused Cassie of burning her classmate Luke and to be the cause of all their problems. At the same time, they decided to visit Faye's grandfather, who was himself visited by Cassie's grandmother lately and didn't come back. After some crazy events and hallucinations, including little girl sreaming, wet footprints, and mud and weeds bath, Faye was getting scared and blamed Cassie for what happened. Later in the night, the group was having some fun playing Truth or Dare, Faye admited having hooked up with only two people and Cassie kissed Jake, prompting the two girls in a mean fight. Put to the edge, Faye left crying and saw the little girl outside again. Cassie went after Faye and saw the little girl too. The little girl is a past Faye, aged six years old, dressed up like the night her grandfather saved her from drowning in the lake. Disturbed, Faye went to the lake thinking the girl was drowning, and tried to save her, looking half mad, stopped by Jake and Adam, while Cassie was attracted to the dock by the girl. There she "attracted" Henry's lifeless body to the surface.[8]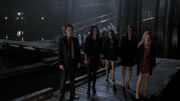 Following her grandfather's death, Faye was in her mother's office, sad and unable to stop thinking about him. After a hug, Faye got angry after her mother since she still planned to attend a gala in the evening, accusing her mother of not caring for Henry and pushing him away from her, and ultimately blaming her for his death. She then went to the Abandoned House, where she stayed. But soon arrived Cassie and Jake, and she spied on them from upstairs, seeing her ex steeling a stone while Cassie was not looking. Having a brief arguement with Jake whether she knows or not, she left. She met Adam at the Boathouse, where he was being the center of attention of most girls, and told him they needed to talk somewhere quiet. They both thought Jake was up to something and were planning to discover what. At night, Faye was going to the gala with Adam, where she told him to look after Jake. Coming back from outside, Adam revealed Jake was a witch-hunter, and Faye and the three other members of the Circle gathered to follow him, who had left with Cassie. Arriving near the Blake house, Faye and Adam found Jake lying on the floor and he revealed Cassie was kidnapped, then the three of them decided to follow the witch-huntersto the harbour. While Jake and Faye were distracting the hunters with a spell, Adam went to save Cassie in the boat. Whereas Jake stayed behind, the Circle ran away.[9]
Craving for power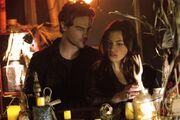 Faye chastised Melissa for still being moody and sad about Nick's death. To help get her back in the real world, Faye asked Melissa to help her with a plan to get her individual powers back. Faye and Melissa joined the others at the Abandoned House in the woods where they learnt the truth about Cassie's powers. Jealous that Cassie not only can perform magic on her own, but has a serious amount of power inside her, Faye took a page from Cassie's Book of Shadows. The page contained an old voodoo spell that would allow Faye to perform magic on her own. Faye and Melissa went to
Lee Labeque
's place, a voodoo pratictionner found on the internet. He performed the spell on Faye using a feather and drawing a symbol in blood on Faye's heart. At the House, in the woods, Faye tried to perform magic on her own, but failed again. Faye was upset and went back to Lee's.
[10]
Faye met up with Lee in front of High School. When talking, he admitted he found out Faye and Melissa weren't the only witches in town, having observed "Blondie", "Emo boy" and "Girl Scout". He guessed Faye lost her power since she had bound her Circle. Later, Faye went to Lee's, there he told her that with the page she had stolen, he guessed someone had Dark Magic in their bloodline, and suggested she took that magic. Faye planned to steal Cassie's necklace and to perform the ritual before meeting her at the Fire and Ice Dance. When Lee completed the ritual, Faye went to the Dance and began practicing her magic by freezing glasses, lighting fires. But soon Cassie realised what was happening and told Faye that what she was doing was hurting the Circle, as Melissa and Diana fainted. Threatening Lee, he told her how to reverse the ritual, and all went out of hands and created a fire. In the end, the whole Circle set up against Faye, and she got angry since she was blamed while Cassie was the most dangerous one.[11]Faye was hanging out with Lee at his place when Lee's friend, Callum, came. Callum and Faye then talked for a while, and Faye seemed to be interested in some Devil's spirit, a "non-addictive" drug which was said to enable people to tap into theinr inner strenght. But Lee warned Faye about it, since his ex-girlfriend, Eva, tried it and she ended up in a coma. Near the end of the episode, Callum gave some Devil's Spirit to Faye.[12]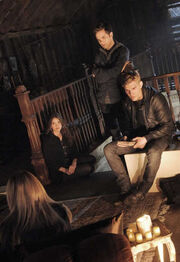 Faye was first seen telling Jake about Cassie not being his type. Later, Faye was discussing with Melissa and gave her some Devil's Spirit. At Adam's birthday party, Melissa was under Devil's Spirit and really messed up. When trying to take some more, wind blew it all, and Faye called Callum to provide some. When he arrived and gave Faye the stuff, Melissa was almost seducing him, and Faye asked him to go, but he refused, until Jake came. Later in the night, the Circle met in the forest following Lucy Gibbons' plan to reactivate the Medallion, and and they began the Ritual. But they soon felt it was wrong and unmasked Lucy as trying to take away their powers. In the end, Faye and Jake hooked up.[13]
Faye tried to sneak out of Jake's bed before he noticed, but he woke up and they began to have an arguement before hooking up again. In honor of the holiday, Faye and Melissa threw a girls only anti-Valentine's Day slumber party for themselves and fellow witches Diana and Cassie. Faye received a present from Lee to help her improve her own power. During the party, the girls were having some fun until Melissa had an overdose of Devil's Spirit.[14] A couple of days later, she was invited by Callum to a party, but she refused to go. However, as Melissa went to that party, Faye enlisted Diana and Lee's help to find her and bring her home safe. She later helped the Circle in saving Jake from Eben, who kidnapped him and also participated in the spell who broke the Witch Hunter's spell previously placed on Cassie. With Melissa telling her about the totem Lee gave her, she came back to her house and Lee was there. She faced him about his "power sucking totem", but he told her the spell placed on the object can change and and after he broke the totem, they shared their first kiss.[15]
References
Ad blocker interference detected!
Wikia is a free-to-use site that makes money from advertising. We have a modified experience for viewers using ad blockers

Wikia is not accessible if you've made further modifications. Remove the custom ad blocker rule(s) and the page will load as expected.