Faye and Jake

General Information

Portmanteau

Fake, Jaye

Status

Friends/Couple

First Met

in childhood

Intimacy Level

Sexual, Made Love, Romantic Feelings for Each Other, Dating

Portrayed By
| | |
| --- | --- |
| " | I was just trying to get a mental picture, to prevent this from ever happening again. You, me, an overwhelming feeling of shame. |
The relationship between Faye Chamberlain and Jake Armstrong; the two previously had a romantic relationship prior to Jake's leaving. The two are known as Jaye (Jake and Faye) or Fake (Faye and Jake).
Early History
Before Cassie Blake came to town Faye and Jake were involved in a "Friends With Benefits" relationship. Faye started to fall for Jake, wanting more of a romantic relationship, but this scared Jake and he broke her heart. Faye was badly hurt by the break-up and according to Melissa Glaser, Faye was almost admitted to an asylum.
Jake fled town shortly after the break-up, abandoning Faye and his brother Nick Armstrong, who was then left without any immediate family. It is well known that when Jake left town there was bad blood between him and Faye, despite that, it is hinted that Faye knows Jake better than anyone else.
Season One
Ever since Jake left two years prior, Faye has been plotting her revenge. In Wake, it was confirmed that Jake was back in town and Faye had decided that it was time to put her revenge into action. Straight away, Faye changes into something seducing and tries to lure Jake in the trap; she confronts Jake about the fire at the abandonded house and then let's him know that he has no more control over her.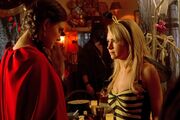 It's now Halloween in Chance Harbor and Jake is after the circle with his
Witch Hunter
friends. Faye convinces Cassie to throw a party for just the Circle, but instead the whole town comes. Cassie is suspicious of Jake so she asks Faye to "distract" him while she snoops around his room, in which, Faye replies with "Why do you think I'm wearing this?". Faye seduces Jake while at the party, taking him upstairs and making out with him. In the mix of things Jake pushes Faye away and Faye tells him that he's changed; he was never the one to push a girl away and he replies telling her that there was never anything between them and that she made it all up in her mind.
In Beneath, All of the Circle (except Melissa) go down to Faye's Grandfather's Lake House and they end up in a game of Truth or Dare. Cassie kisses Jake, making Faye incredibly jealous and they have a big argument. As a result of this, Faye storms out of the house.
In "Traitor," Faye and Jake talk about getting messed up together. They stole Dawn's bottle of what they thought were happy pills and as they were about to take them while making out, when Faye opened the bottle they find the Meade Family Crystal.
In Prom, Faye talks about how two years prior, she had waited for Jake for 3 hours. Understanding that Faye really does care for him, Jake apologizes and the two share a dance together.
In Family, Jake is completely determined to rescue Faye after she had been abducted by Eben because he realized he did truly love her. When Jake and Melissa arrive at the Ferry, he is so relieved to see Faye alive, Jake kisses her. In the last scene of the series finale, both Jake and Faye seem to be entering a serious and true relationship.
Quotes
---
---
---
---
Trivia
The two had a relationship prior to his return.
In the episode Medallion, the two hooked up again.
In the episode Traitor, they were about to hook up again until Faye found her family crystal in something she stole from her moms purse.
It is implied that Jake took Faye's virginity.
Gallery
Videos
Ad blocker interference detected!
Wikia is a free-to-use site that makes money from advertising. We have a modified experience for viewers using ad blockers

Wikia is not accessible if you've made further modifications. Remove the custom ad blocker rule(s) and the page will load as expected.