The relationships that Melissa Glaser has with various characters throughout the series.
Romance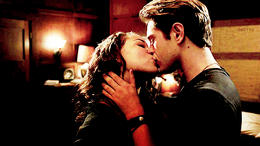 Nick and Melissa had a romantic relationship, since the episode Bound when they made out, maybe for the first time. At first, Nick thought that Melissa was using him and didn't love him. Faye said to Melissa, in the episode Loner, that Nick hated her, so he acted like an idiot with her. But Faye told him to be nicer with Melissa or just forget her. Nick chose to keep spending time with her, and not just for sex. In the episode Heather, Faye tried to turn Melissa against Nick when pretending that Nick cheated on her and dated other girls. Melissa made the mistake to listen to her best friend and reject Nick. Later she came to Nick and apologized and they hook up again. In the episode Slither, Melissa was posessed by a demon named Abaddon. Nick seems to really care about her, despite her strange attitude. In the end of the episode, Nick was killed by Diana's step-father, Charles, leaving Melissa heartbroken. During the wake, Melissa got angry over Faye who doesn't respect Nick. But Faye said that Nick loved her just like she loved him. In Prom, Nick came back and wanted the crystal so he came to the Abandoned House and asked Melissa where is the crystal. He started to mash things and then ran away after seeing Adam. It was later seen that Nick killed a security guard to go to the school base, which he overheard Cassie told Adam and Melissa about the last crystal. He stole it after Adam opened the trophy case. Nick wanted to give the crystal to Eben in exchange for a demon inside him. Melissa later killed him after he almost killed Jake.
Friendships
Faye and Melissa have been seen to be best friends for a considerable amount of time before the pilot. Faye was constantly telling Melissa that Nick was not a good guy and she appericiated this but told Faye that she was really in love with him. When Jake comes back, Melissa was concerned about Faye since their relationship left her in a bad mental state afterwards. She tells her at Nick's wake: "Listen I have been through this with you before and he almost put you in a psych ward last time. You need to stay away from him." Faye replied to this by saying " I was a kid then. Now I'm a wicked witch." During the episode Fire/Ice, it is revealed that Melissa is concerned Faye is too obessed with power and "drifting away. Faye along with Diana, later help Melissa when she took too much Devil's Spirt during the Valentine's Day sleepover. Melissa kept hang out with Faye and protected her, and reciprocally Faye help Melissa when she's in trouble, like in the episode Return.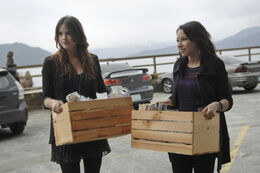 Melissa and Diana used to be best friends before she started dating Adam, but their relationship took a tumble when Diana's relationship with Adam started. Melissa became best friends with Faye and until Cassie Blake's return to Chance Harbor, their relationship has started to take back some importance. First when they discussed about it in Fire/Ice, and then in Valentine, when Melissa had an overdose of Devil's Spirit and Diana helped taking care of her more than Faye did. In the episode Return, Diana was the one who thought about Melissa's safety when she went to Callum's party. She attempted to rescue her friend with Faye and Lee, but Melissa saved her herself. In the episode Lucky, Melissa prepared the "Casino party" with Diana and encouraged her to date Grant, a new guy in town who Diana seems to be attracted to.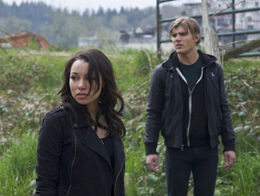 Although Melissa and Jake didn't interact much, they have a relationship. At first Melissa was thinking that her and Jake could become good friend because they both love Nick, but Jake rejected her. He pretended that he Melissa and Jake in the season finale, Family had nothing in common with her and the rest of the Circle and that Nick deserve what happened to him. Melissa was shocked by his answer and said that maybe all the bad things were on him. In the episode Fire/Ice, Jake saved her and Cassie who were trapped by fire. In the episode Valentine, she was the one who replied to him when he asked where Cassie was. In the episode Lucky, Melissa tried to help Jake with his obsession for Cassie, she acted like a friend with him even if he seems to dislike her. When Jake was sick because of the curse, Melissa tried to help him, like the rest of the circle, and make a potion with John Blackwell. In the episode Crystal, Melissa and Jake try to find their own family crystal. But, when Callum try to speak to Melissa, Jake came up and fight with him, but Melissa stop him, implied that he cares about her, maybe like the other members of the circle, except for Adam, or maybe like a friend. During Prom Melissa save Jake by killing her ex-boyfriend, Nick. Later on during Family Melissa and Jake run to the Boatyard to help Faye escape from Eben.
Melissa wasn't very close to Cassie, but the two of them became friends. Melissa can be friendly with Cassie from time to time. All the girls usually hang out together without boys, although Cassie is closer to the boys and Melissa is closer to the two other girls. She started to be concerned for Cassie after she and Adam stop seeing each other and felt sorry for her.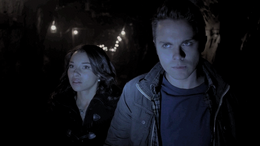 Adam and Melissa have a relationship yet to be explored, but it is presumed they are mutual friends through Diana. Melissa felt sorry for him and Cassie after she found out about the potion which erased their feelings for each other.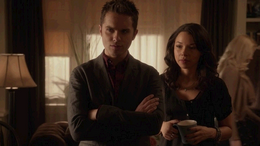 She helped him at the Boathousefor the hockey players party and casted a spell with him to attract a hockey player.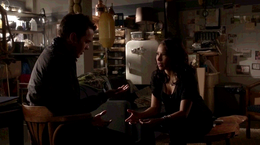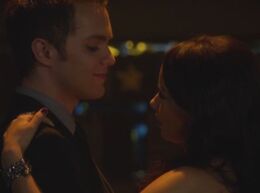 Later Adam fought with the hockey player because he was flirting with Melissa and Faye when he had a girlfriend. Adam started to get upset because of how much he misses Cassie, and he wished he could remember the feelings for her but he can't, so Melissa and Faye try to comfort him. In the episode Crystal, Adam and Melissa seem to become more and more closer, but more like friends. He tries to find the Glaser's crystal with her and without Diana's help. Later, they went into a mine to get back Armstrong's crystal before Callum. Melissa saves him when he slips and almost falls into an hole. in the episode Traitorthey go to Janes Wake together later while her and Adam look for his Grandfathers crystal in the Boathouse, Adam talks to Melissa about Cassie's kiss and how he felt about it. Melissa grabs a bottle of liquor for them so they can get into his grandfathers head, while drunk Adam remembers his grandfather did a trick with a coin to make it cloak. Adam does the trick and it cloaks, But Adam can't remember how to uncloak it, Until Melissa remembers seeing writing on the coin she thinks it might of been a spell. Adam and Melissa shade the coin on a peice of paper and say the spell uncloaking the coin and a secret campartment on the wall where the coin was Adam amd Melissa find a box inside the box is the way to find the last crystal, later at the abandoned house they discover Adam's grandfather hid the crystal somewhere in the school. In the episode Prom Adam walks in on Melissa talking to a ressurected Nick, who tries to run away again, but when Melissa tries to stop him he pushes her into a table, After Nick runs away Adam hold Melissa in his arms protectevly. Later,at the prom while Adam and Melissa are standing guard they watch a couple headed ino the gym for prom. Melissa tells Adam that none of them are ever going to have that and that when they leave high school no one will remember them in their yearbooks for doing anything because all they did was hunt for crystals and stop psycho's, she thought being a witch was going to be "magical". Adam then has the music from prom connect through a speaker in the hallway, then has all the light's in the hallway come off and make one light come on as a spotlight, They then dance together Melissa thanks Adam for something "Magical"
Others
In Medallion, Callum met Melissa during Adam's birthday party when Faye invited him for more "Devil's Spirit." He was immediately interested by Melissa and became her dealer. Melissa forgot about all the bad things in her life with this drug, even Nick's death. She was attracted to Callum because he reminded her of Nick. In the episode Return, Melissa went to Callum's party not for Devil's Spirit, but because she thought that Calum was a good guy who played the bad guy just like Nick was. But after a vodoo ritual, Callum felt her power and took her in another room, but Melissa got scared. Callum accused her of being a witch so she threatened him to go away. In Crystal, Callum came back into Melissa life. After a fight with Jake, he follow him into Jake's grandfather's house, to stole him some wich blood, and he says that he never hurt Melissa. He seems to like her very much and even propose her to leave with him, when he try to stole the Armstrong's crystal
See Also
Ad blocker interference detected!
Wikia is a free-to-use site that makes money from advertising. We have a modified experience for viewers using ad blockers

Wikia is not accessible if you've made further modifications. Remove the custom ad blocker rule(s) and the page will load as expected.