Prom
is the twenty-first episode in the
first season
of
The Secret Circle
. It aired on May 3, 2012.
It's Prom night in Chance Harbor and after Adam uncloaks a crystal hidden in the school, Blackwell tells Cassie she can use her dark magic to find it. When Cassie follows this advice, it leads her to a dangerous discovery. Meanwhile, Faye invites Jake to Prom, despite the fact that he stood her up two years earlier. Adam, Diana, Cassie and Melissa finally make it to Prom but when they lose the crystal to Eben, they end up in a life and death situation. Meanwhile, Dawn attempts to stop Blackwell, who casts a deadly spell on Charles.
SPOILERS AHEAD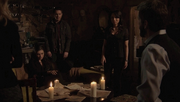 The circle is discussing about Nick being the traitor witch. Melissa is telling the circle thay they need to help Nick. Jake then tells Melissa to move on but she leaves the abandon house. John Blackwell is trying to talk to Diana but she leaves along with Jake and Faye.John tells Cassie that she can use her blood to find the crystal.While Cassie is at the school she sees her motherwanting to talk to Diana's mother, Elizabeth Meade. Cassie goes to Diana's house to try to convince her to go back in time to see if they can see more and see if they can see Diana's mother. Diana agrees to help Cassie.Faye goes to Jake's house to see why he was being a jerk to Melissa.Jake then gets a nife for protection in case Nick comes back looking for the crystal.

Charles asks Diana if she is going to prom and gives her Elizabeth's necklace.Charles then gives Diana a ride to school.Dawn Chamberlain is outside waiting for Charles and they discussed John. Adam, Cassie,Melissa and Faye are talking about prom.Faye decides to invite Jake to prom which he stood her up 2 years ago. Melissa is at the abandon house and Nick is there too. She tries to help him but when he sees Adam and runs away. The circle is getting ready for prom.Diana and Cassie go to Java Brew and Diana sees Grant. She tells Grant to meet her later after prom. John does a spell to make Charles think that Amelia's ghost is haunting him.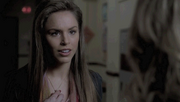 The circle arrives at prom. Diana and Cassie go back in the past and see their mothers. Amelia tries to warn Elizabeth not to go to the ferry and that she knows about Diana being the Other Blackwell and warns her to get out of Chance Harbor with her family. Elizabeth refuses as she sees making a peace treaty with the Witch-Hunters will protect them. Amelia then goes and sees James Conant telling him she's leaving Chance Harbor with her daughter and he tells trusting the witch-hunters is reckless. Also she tells him to tell Ethan she doesn't love him even though she does, but is putting her daughter first instead of her own needs. Meanwhile at the prom Melissa tells Adam that she wishes to be at prom instead of chasing deminic killers.Faye then tells Jake she wants to dance with him. After they come back,Diana starts to blame Cassie that its her fault that she brought Blackwell back into their lives and that its his fault that her mother is dead. Cassie tells Adam and Melissa where the crystal is but Nick overheard where it is and tries to get it before the others.Adam finds the crystal before Nick but Nick attacks Adam and takes the crystal with him.Diana finds out that her father killed Amelia.The circle finds Nick and try to get the crystal. Nick tells Eben he wants to trade the crystal for the demon.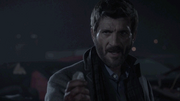 Eben then attacks Faye,Adam and Cassie.John then battles Eben and Faye stays to help him.Nick is fighting Jake and just as he was about to kill him Melissa kills Nick.John goes to the circle and tells them that Eben got away and he took Faye. He says that they got the sixth crystal and can make the crystal skull to save Faye.
---
Charles: She's haunting me.
Diana: Who?
Charles: Amelia, she burned the kitchen.
Diana:Why she's coming to you? She's dead.
Charles: That why she is coming for me what me for what I did, Diana I'm so sorry.
Diana:Oh God, you killed her, you killed Cassie's mom.
---
Melissa to the circle: Since when do animals need Crystals. Guys Nick is struck in a nightmare he is lost and scared. We need to help him!
Jake:Whatever it is whoever he is, it's not Nick!
Melissa: It's not that black and white,Jake.
Jake:Death..yeah it is
---
Nick: I want the crystal!!
Melissa: We're gonna give you whatever you need to make you better I promise.
Melissa: Just listen to my voice, I just wanna make you better, We can be together again?
Adam: Nick?!
Nick: Aahh!!
Melissa: Wait no, no, no!!
Adam: Nick stop!
Adam: Stop!
Adam: Hey, hey, hey...You ok?
Melissa: Yeah...
---
Faye: Why is it always squeaky old dirty places? Why can't he hide in a mall or a nice hotel?
Faye: I knew I should have brought demon chasing shoes!
---
Cassie: My father didn't love her. He just used her.
Diana: He used all of our parents. And now he's using us.
Cassie: For what?
---
Adam: Things will get better, I promise.
Melissa: When? I thought having magic was supposed to be magical.
---
Amelia to Elizabeth : He won all of us over, but we're just the two idiots who slept with him.
---
Faye: Oh no you don't cursed crusaders. First a ride, the next thing you know you're dancing and then my date is dead in my arms.
---
Diana: Let's hurry up. I wouldn't want you to miss your imaginary meeting.
---
Faye: You've got that look.
Jake: What look?
Faye: That look that you're about to invade a small country with nothing but your tortured soul.
---
Cassie: I've never been to a prom.
Diana: It usually doesn't involve ancient crystals and time travel.
---
Diana: You want me to go back in time with you.
Soundtrack
Edit
| Title | Album | Artist | Buy |
| --- | --- | --- | --- |
| Get It Right | Get It Right Single | Adam Oliver | Buy |
| Mine To Take | Mine To Take Single | Valida | Buy |
| Nonesuch | Mixed Emotions | Tanlines | Buy |
| Only Happy When It Rains | Garbage | Garbage | Buy |
| Rain Delay | Mixed Emotions | Tanlines | Buy |
| What We're Doing | | The Danks | |
| | |
| --- | --- |
| | This gallery only shows the official pictures released for the episode your're looking for. A more complete gallery can be found here. Any future additions should be done there. |
Notes and Trivia
Edit
The title of this episode was revealed by Joe Lando on his official website.
Phoebe Tonkin tweeted, "When Faye gets ready for prom she thinks naughty Disney princess."
Executive Producer, Andrew Miller and Chris Zykla both described this prom as "bloody."
It appears that Charles is getting haunted by Amelia's ghost, and possibly for killing her and her mother Jane, but its only John who using his magic to break Diana's bond with Charles. It appears to work when Charles admits to Diana that he killed Amelia.
Nick Armstrong is killed again in this episode.
Amelia planned to take Cassie away from Chance Harbor even before the Boatyard Fire and knew Diana was John's daughter and warned her mother Elizabeth to get out of town with her family.
Adam's grandfather James Conant appears as a mentor to Amelia when she's telling him all about her and Ethan's plan to hand him over to the Witch-Hunters he foreshadows to her how that plan will backfire. He was right as they didn't kill John, but the other members of Amelia's circle.
The Prom is in this episode