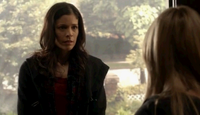 Psychics are people gifted with enhanced mental capabilites such as precognition. 
Powers
Precognition: the ability to see the past, the present and the future.
Sensing: the ability to foresee or know the location or certain aspects about a person, and to sense spirits.
Retrocognition: the ability to feel the psychic imprints of past moments, or relive the past in perfect detail.
Known psychics
Notes and trivia
In the books, Cassie Blake also have psychic powers, as she's able to "see" and "feel" things, which she has not in the show.
It is unknown if psychics can cast spells or not, but it presumed not.
Ad blocker interference detected!
Wikia is a free-to-use site that makes money from advertising. We have a modified experience for viewers using ad blockers

Wikia is not accessible if you've made further modifications. Remove the custom ad blocker rule(s) and the page will load as expected.