Wade Barnes

General Information

Gender
Species
Status

Relationship Information

Family

Character Information

Portrayer
First Appearance
Last Appearance
Wade Barnes
is the brother of
Heather Barnes
.
Season One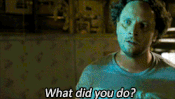 Following Heather's possession by the demon
Abaddon
and Amelia Blake's suppression sigil effects on her, his sister fell into a long coma, and for sixteen years, he's been watching over his sister. When she awoke, she attacked him and fled, and when he found her, she was just being hit by a car, dying in front of his eyes.
Ad blocker interference detected!
Wikia is a free-to-use site that makes money from advertising. We have a modified experience for viewers using ad blockers

Wikia is not accessible if you've made further modifications. Remove the custom ad blocker rule(s) and the page will load as expected.