Wake is the sixth episode in the first season of The Secret Circle. It aired on October 20, 2011.
Summary
When Jake, a mysterious young man, shows up in Chance Harbor, he learns a lot has changed since his last visit. For one, the girl he left behind, Faye has discovered she's a witch and has plans to get even with the handsome guy who broke her heart. To complicate things further, he sets his sights on the alluring Cassie, much to Adam and Faye's dismay.
Plot
SPOILERS AHEAD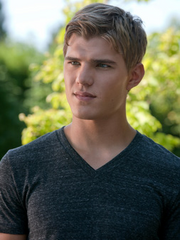 The Circle is still dealing with Nick's death, and suddenly realising that magic isn't all just fun and games. Cassie confides in Jane who thinks the Circle should be kept broken. However, a mysterious young man shows up at Nick's house during the night, in front of a crescent-moon-shaped fire. It's Jake, Nick's older brother, who's returned to Chance Harbor after two years of being missing. Jane tells Cassie that Jake is able to take Nick's place in the Circle because they were brothers, explaining that magic does not bind the Witches, but the blood of the entire families. Cassie also learns that she comes from a long line of witches, dating back to the beginnings of witchcraft and that her power is stronger, but brings lots of responsibility as well. For Jane, Cassie is the natural leader of her Circle.

Jake goes to the Grill to attend his brother's wake. None of the group are glad to see him back. Adam reminds Jake of a little episode where he stole from the Grill, but Adam also notices how much Jake is interested in Cassie. Faye hates that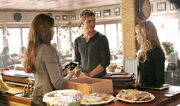 Jake is back because they used to be in a relationship and the breakup was messy. Faye was nearly committed to the psych ward because of it. In the same time, Jane talks to Dawn about Nick's death, saying that she sus

pects demonic possession. Dawn wonders whether they should contact the Elders about taking the new Circle's powers away, faking to care for their safety, but Jane counters that they'll need magic to protect themselves. However, Jane still has no idea of Dawn and Charles's roles in drowning Nick.

Later, Dawn tells Charles she's starting to earn Jane's trust and that Jane must have a family crystal somewhere which they have to steal, in order to increase their own powers. But, Jane is actually giving the crystal to Cassie, saying that she has to keep its existence a secret from the others.

Cassie tries to convince the rest of the group to allow Jake to join. However, a fire is set outside, and it's the shape of a crescent moon, an ancient symbol to warn others of lands belonging to witches. A mysterious girl attacks Cassie with a knife, but Jake fights her off with a spell. He explains that he found his family's Book of Shadows and taught himself magic a long time ago. He still doesn't want to join the circle, however. Diana notices that Adam's getting more and more upset about Jake's closeness to Cassie. The meaning of Adam's interest isn't lost on Diana. She knows Adam has feelings for Cassie, and that he's jealous of newcomer Jake. Faye tries to warn Cassie that Jake is bad news. Between everything else that's going on, only Melissa still seems concerned with Nick's death.

Jake finds the girl who attacked Cassie earlier, and it turns out that they know each other. The girl, Simone, took a vial of Cassie's blood and now Jake takes the vial. He calls Simone a True Believer and warns her not to get in the way. At Nick's wake, Adam's dad is drunk and explaining way too much about Chance Harbor's past. He also tells Adam about someone named "Blackwell", who might be important later on. But Adam notices that Cassie's with Jake, so he has to break that up. Adam's dad also tells Diana that Adam and Cassie have to be together. It's their destiny, but he's torn up because he still wants Diana to be happy. Diana decides to break up with Adam.

As Jake and Cassie get closer, Simone tracks Jake down and berates him for not killing Cassie when he had the chance. Jake has apparently decided to go off-mission and he and Simone fight. Cassie arrives and uses her crystal to take Simone's knife away. Jake then stabs Simone in the throat. Cassie again invites Jake to the circle. Later, Jake meets with more mysterious people. They warn him that he killed a fellow witch hunter. But Jake defends his actions, saying that he wants to avenge the death of his family, and to clear Chance Harbor of all witches.
Cast
Main Cast

Recurring Cast

Guest Cast
Quotes
---
---
---
---
---
---
---
---
---
Soundtrack
| Song Title | Album | Artist | Buy |
| --- | --- | --- | --- |
| Cruel And Beautiful World | Never Trust a Happy Song | Grouplove | Buy |
| Go Outside | Go Outside - Single | The Cults | Buy |
| I Change Every Minute | Elevator Ride | Bronwen Exter | Buy |
| Say What You Want | | The Very Much | |
| Still Life | Skyling | The Horrors | Buy |
| The Greatest Light Is The Greatest Shade | The Big Roar | The Joy Formidable | Buy |
Gallery
| | |
| --- | --- |
| | This gallery only shows the official pictures released for the episode your're looking for. A more complete gallery can be found here. Any future additions should be done there. |
Videos
Notes and Trivia
Louis Hunter is no longer credited as a series regular, as he's not featured in the show anymore.
This episode marks Jake Armstrong's first appearance in the series as Nick's older brother.

We learn more about the

crystals

and

are introduced to the Witch Hunters.

This is the first episode in which John Blackwell is mentioned.
Jake mentions he found his Book of Shadows right before he left town, but is never seen in the episode.
The Binding Ritual not only bound the six members of the Circle together, but bound their bloodlines.
See Also