Witness
is is the twelfth episode in the
first season
of
The Secret Circle
. It aired on January 19, 2012.
Summary
Jake returns to Chance Harbor to warn Cassie that unless they find out how her father was killed in the boatyard fire sixteen years ago, she'll meet with the same death. He suggests an extremely dangerous method to finally uncover what happened on that fateful day, but Adam and Diana suspect he has ulterior motives. In an effort to usurp the other, both Charles and Dawn try to get Ethan on board as a trusted friend. Faye gets trapped in a dangerous situation when one of Lee's friends, Callum stops by the shop.
Plot
SPOILERS AHEAD
Jake returns to town and warns Cassie and Adam that the witch hunter council is going to come and kill Cassie, similar to what they did with John Blackwell in the fire sixteen years ago. Later on, Jake revea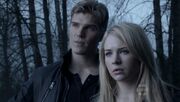 ls that when he was 4 years old, he hid in the car and went out to find his parents and saw what happened at the Boat Yard. He offered Cassie to go into his memory to see what happened there at the Boat House. Adam refused to let Cassie risk her life to do something for Jake, but she did it anyway. Meanwhile, Adam was worrying and talking with Diana about what Cassie is choosing.

At Jake's memory, Cassie and Jake saw Jake's parents and wanted to follow them to see if they can lead them to the other parents. When they were moving nearer to Jake's parents, Jake's head started to ache, and Cassie told him to stay where he is at, and she will follow them. Jake refused saying that they needed to stay together. Since Cassie wanted to see her dad, she ignored what Jake said and followed Jake's parents anyway. The memory started to blur. Jake then come back to the real world and was trying to get Cassie back, but he failed. While stuck in Jake's memory, Cassie followed Mr. and Mrs. Armstrong and listened to their conversation. Then a witch hunter came and killed Mr. Armstrong and took Mrs. Armstrong to a room and let her sit there with the rest of the parents. Mrs. Armstrong later recognized Lucy and sat with her, panicked.

Cassie then watched a man who was blind-folded come to the pole and tied by the witch hunter. She then realized that it was her father, but she couldn't see his face. The witch hunters started to do the ritual and later John Blackwell broke off and escaped, making the ritual fire kill the witch hunters and the rest of the people on the boat. While Jake was trying to bring Cassie back, Adam and Diana appeared. Ad
am hurried to Cassie's side and angrily asked Jake what he did to Cassie. They later worked together to bring them back into the memory and save Cassie. Cassie saw that her dad took a necklace out of the bag and drop it down a vent but didn't see his face. Then later on, Cassie went to the boat house to pick up what her father dropped during the ritual and how he escaped the spell made by witch hunters. Jake caught up to her and talked to her about how he shouldn't had block his memory. Cassie showed him the symbol (to channel dark magic) necklace. Cassie wanted to see if her father was still alive, so they dug up his grave, and they saw animal's bones, meaning John Blackwell's still alive.

While Jake and the others tried to figure out what happen sixteen years ago, Faye was hanging out with Lee at his voodoo shop. Then Lee's friend, Callum came. Callum and Faye then talked for awhile, and Faye seemed to be interested in some devil spirit. Lee warned Faye about the devil spirit that he was trying to stay away from and when his ex-girlfriend, Eva, tried it, she ended up dead. Near the end of the episode, Callum gave the spell of the devil spirit to Faye.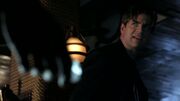 Charles started to think Dawn was up to something so he told her he is going to stop whatever he is doing. Dawn tried to convince him to come back but failed. She then relied on Ethan by telling him Charles choked her and killed Henry. Ethan believed Dawn and attempted to get the crystal back to destroy it after he takes the crystal away from Charles. Ethan then called Charles and met up at the Boat House diner where Ethan later hit Charles in the head. When Charles woke up, Ethan was already holding the crystal in his hand. He then choked Charles with water like Charles did to him in Pilot. Charles warned Ethan that Dawn was telling lies about Charles killing Henry and that it was Dawn instead. Since Ethan haven't done magic in a long time, he loved the power and attempted to have the crystal for himself. Dawn came and wanted the crystal, but Ethan said that he would give it to her tomorrow with an unsure face, indicating that either he loved the power the crystal gave him or he believed when Charles said that it was Dawn who killed Henry.
Cast
Main Cast

Recurring Cast

Guest Cast
Quotes
Cassie: "You want me to go into your memory?" (to Jake)
---
Adam: "How do you trust him?"
Cassie: "I can't explain it. I just do"
---
Jake: "So you're safe from them. I'm glad I came back."
---
Jake: "Don't you usually have a different girlfriend?" (to Adam)
---
Ethan: "I'm sober as a church mouse, Charles."
---
Lee: "Damn it, Faye! I just cleaned up since the last time you trashed the place!"
---
Cassie: "He just try to help me understand it."
Adam: "Why?"
Cassie: "Because he cares about me."
Adam: "You or your power?"
---
Diana: "Cassie's a big girl. I don't blame her for wanting to try it. I'd do the same thing. Just to be able to see them. To know the truth. Everyone in the Circle had their lives destroyed that day, we should all be there to see it."
Soundtrack
| Song Title | Album | Artist | Buy |
| --- | --- | --- | --- |
| I Had It Coming | | White Rabbits | |
| Moving On | | The Grates | |
| Only For You | | Heartless Bastards | |
| Sand | Sand - Single | Promise And The Monster | Buy |
Gallery
| | |
| --- | --- |
| | This gallery only shows the official pictures released for the episode your're looking for. A more complete gallery can be found here. Any future additions should be done there. |
Videos
Notes and Trivia
See Also